Good Trouble Book Club for Middle School Students
When: Saturday, December 17, at 4 PM
Where: Dog-Eared Books loft
"Never, ever be afraid to make some noise and get in good trouble, necessary trouble." – Congressman & civil rights activist John Lewis
Not only are books fun, but some stories can also help us learn how to think about injustice, use our voices–and be good troublemakers! Join Tanvi and Lou to chat about A Duet For Home by Karina Yan Glaser.
Registration is required for the Good Trouble Book Club.
Bree can't wait for her first day at her new middle school, Enith Brigitha, home to the Mighty Manatees–until she's stuck with the only elective that fits her schedule, the dreaded Swim 101. The thought of swimming makes Bree more than a little queasy, yet she's forced to dive headfirst into one of her greatest fears. Lucky for her, Etta, an elderly occupant of her apartment building and former swim team captain, is willing to help.
With Etta's training and a lot of hard work, Bree suddenly finds her swim-crazed community counting on her to turn the school's failing team around. But that's easier said than done, especially when their rival, the prestigious Holyoke Prep, has everything they need to leave the Mighty Manatees in their wake.
Can Bree defy the odds and guide her team to a state championship, or have the Manatees swum their last lap–for good?
The November book club pick was sponsored by a community member. But you are welcome to pick up a free copy, purchase a copy to read, or grab it from the library, and join us at Dog-Eared Books, Saturday, December 17, at 4 PM, for the book discussion.
Registration is required each month to participate in the book club. Seats are limited to 10
participants; register today to save a seat.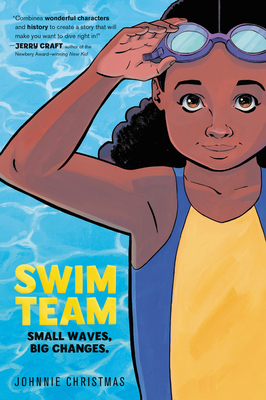 Dates and books for upcoming Good Trouble Book Club 2022 gatherings:
December 17 at 4 PM  Swim Teamby Johnnie Christmas sponsored by community member
Dates and books for upcoming Good Trouble Book Club 2023 gatherings:
January 28 at 4 PM Sir Callie and the Champions of Helston by Esme Symes-Smith sponsored by community member
February 18 at 4 PM The Door of No Return by Kwame Alexander sponsored by community member
March 25 at 4 PM Ellen Outside the Lines by A.J. Sass sponsored by community member
April 22 at 4 PM Undercover Latina by Aya de Leon sponsored by community member
May 20 at 4 PM Attack of the Black Rectangles by A.S. King sponsored by community member
June at 4 PM  Invisible by Christina Diaz Gonzalez sponsored by community member