Totally Graphic Book Club
When: Friday, October 13, 5 PM 
High Schoolers! Are you short on time (or attention) but want all the coziness of a book club in a bonafide bookshop? Join us each month for Capri Suns and snacks and discussions of the graphic novel we'll read each month.
This book club is for students in grades 9-12, and will meet the second Friday of each month.
Registration is required each month to participate in the Totally Graphic book club. After registering, pick up a free copy of the book (to keep!) from Dog-Eared Books or borrow one from the Ames Public Library.
This month's pick is The Hills of Estrella Roja by Ashley Robin Franklin!
In this delightfully creepy and unapologetically queer horror romp of a graphic novel, sometimes dreams do come true. Nightmares are technically dreams, after all….
When college freshman Kat Fields receives a mysterious email urging her to visit a relatively unknown Texas town with a history of witchcraft, strange sightings, and "devil lights"—glowing red stars that appear above the town's hills every night—she ditches her plans for spring break and takes a solo road trip to Estrella Roja to investigate for her podcast, Paranormal Texas, catchphrase: "Y'all stay spooky!"
Meanwhile, Marisol "Mari" Castillo, is also headed for Estrella Roja to attend the funeral for her abuela whom she hasn't seen since childhood, when her mom cut ties with the family and left town. Feeling lost and bored, she decides to help Kat after a chance meeting at the local diner—and, okay, it doesn't hurt that Kat is super cute.
As the two girls grow closer not only to each other, but to uncovering the dark legacy that the town was built on, they discover that something hungry lurks beneath the strange stars and that in the hills of Estrella Roja, some secrets should stay buried.
Pick up a free copy (once registered) that was paid for and sponsored by a community member, or grab it from the library, and join us at Dog·Eared Books at 5 PM on Friday, October 13, to discuss!
Registration is required each month to participate in the book club.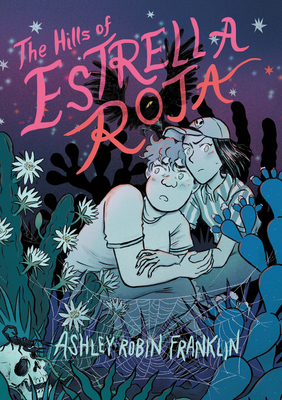 Dates and books for upcoming 2023 Totally Graphic Book Club:
Previous Book Club Selections