Totally Graphic Book Club
When: Friday, December 9, 5 PM 
High Schoolers! Are you short on time (or attention) but want all the coziness of a book club in a bonafide bookshop? Join us each month for Capri Suns and snacks and discussions of the graphic novel we'll read each month.
This book club is for students in grades 9-12, and will meet the second Friday of each month.
Registration is required each month to participate in the Totally Graphic book club.
From the author of The Deep & Dark Blue comes a tender graphic novel, perfect for our time, that gently explores themes of self-discovery, friendship, healing from tragedy, and hope for a better tomorrow.
Struggling with anxiety after witnessing a harrowing instance of gun violence, Manuel Soto copes through photography, using his cell-phone camera to find anchors that keep him grounded. His days are a lonely, latchkey monotony until he's teamed with his classmates, Sebastian and Caysha, for a group project.
Sebastian lives on a grass-fed cattle farm outside of town, and Manuel finds solace in the open fields and in the antics of the newborn calf Sebastian is hand-raising. As Manuel aides his new friends in their preparations for the local county fair, he learns to open up, confronts his deepest fears, and even finds first love.
Pick up a free copy (once registered) that was paid for and sponsored by a community member, or grab it from the library, and join us at Dog·Eared Books at 5 PM on Friday, December 9, to discuss!
Registration is required each month to participate in the book club. Seats are limited to 8
participants; register today to save a seat.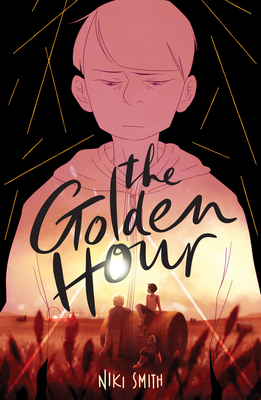 Dates and books for upcoming 2022 Totally Graphic Book Club:
December 9 at 5 PM  The Golden Hour by Niki Smith sponsored by community member
Dates and books for upcoming 2023 Totally Graphic Book Club:
January 13 at 5 PM  The Other Afters: New Queer Fairy Tales by Melanie Gillman sponsored by community member
February 10 at 5 PM  Thieves by Lucie Bryon sponsored by community member
March 10 at 5 PM  Victory. Stand!: Raising My Fist for Justice by Dawud Anyabwile, Derrick Barnes, & Tommie Smith sponsored by community member
April 14 at 5 PM  Sensory: Life on the Spectrum" by Schnumn sponsored by community member
May 12 at 5 PM  Everything is OK by Debbie Tung sponsored by community member
June 9 at 5 PM  The Princess and the Grilled Cheese Sandwich by Deya Muniz sponsored by community member