Found in Translation Book Club
Found in Translation book club tours the globe through world literature in translation. We will explore different countries, cultures, and communities through amazing stories, gaining a fresh perspective as we focus on reading diversely. Join us each month for a new literary trip that will broaden our horizons and ultimately enrich our world.
Love in the Big City by Sang Young Park &
Translated by Anton Hurr
WHEN: Friday, May 20, 7 PM 
WHERE: Dog-Eared Books 
Love in the Big City is the English-language debut of Sang Young Park, one of Korea's most exciting young writers. A runaway bestseller, the novel hit the top five lists of all the major bookstores and went into nine printings. Both award-winning for its unique literary voice and perspective, and particularly resonant with young readers, it has been a phenomenon in Korea and is poised to capture a worldwide readership.
Love in the Big City is an energetic, joyful, and moving novel that depicts both the glittering nighttime world of Seoul and the bleary-eyed morning-after. Young is a cynical yet fun-loving Korean student who pinballs from home to class to the beds of recent Tinder matches. He and Jaehee, his female best friend and roommate, frequent nearby bars where they push away their anxieties about their love lives, families, and money with rounds of soju and ice-cold Marlboro Reds that they keep in their freezer. Yet over time, even Jaehee leaves Young to settle down, leaving him alone to care for his ailing mother and to find companionship in his relationships with a series of men, including one whose handsomeness is matched by his coldness, and another who might end up being the great love of his life.
Purchase a copy to read, or grab it from the library, and join us at Dog·Eared Books at 7 PM on Friday, May 20, to discuss the book with book club hosts Sarah & Mariah! This book club is free to anyone who wishes to participate, no registration necessary.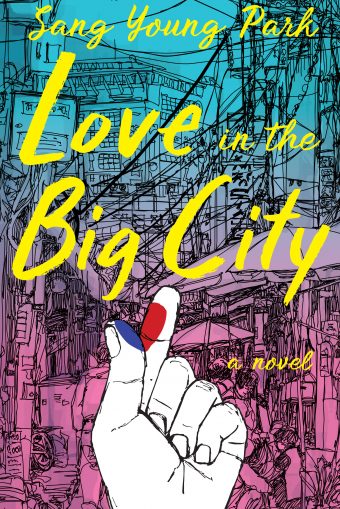 Dates and books for upcoming 2022 Found in Translation
May 20 at 7 PM  Love in the Big City by Sang Young Park
June 17 at 7 PM  Girls of Riyadh by Rajaa Alsanea
July 15 at 7 PM  The Shadow of the Wind by Carlos Ruiz Zafón
August 19 at 7 PM  Like Water for Chocolate by Laura Esquivel
September 16 at 7 PM  Frankenstein in Baghdad by Ahmed Saadawi
October 21 at 7 PM Tender is the Flesh by Augstina Bazterrica
November 18 at 7 PM  Strange Beasts of China by Yan Ge
December 16 at 7 PM  A Winter's Promise by Christelle Dabos