Found in Translation Book Club
Found in Translation book club tours the globe through world literature in translation. We will explore different countries, cultures, and communities through amazing stories, gaining a fresh perspective as we focus on reading diversely. Join us each month for a new literary trip that will broaden our horizons and ultimately enrich our world.
Like Water for Chocolate  by Luara Esquivel &
Translated by Thomas Christensen and Carol Christensen
WHEN: Friday, August 19, 7 PM 
WHERE: Dog-Eared Books 
Earthy, magical, and utterly charming, this tale of family life in turn-of-the-century Mexico became a best-selling phenomenon with its winning blend of poignant romance and bittersweet wit.
The number one bestseller in Mexico and America for almost two years, and subsequently a bestseller around the world, Like Water For Chocolate is a romantic, poignant tale, touched with moments of magic, graphic earthiness, bittersweet wit – and recipes.
A sumptuous feast of a novel, it relates the bizarre history of the all-female De La Garza family. Tita, the youngest daughter of the house, has been forbidden to marry, condemned by Mexican tradition to look after her mother until she dies. But Tita falls in love with Pedro, and he is seduced by the magical food she cooks. In desperation, Pedro marries her sister Rosaura so that he can stay close to her. For the next twenty-two years, Tita and Pedro are forced to circle each other in unconsummated passion. Only a freakish chain of tragedies, bad luck and fate finally reunite them against all the odds.
Purchase a copy to read, or grab it from the library, and join us at Dog·Eared Books at 7 PM on Friday, August 19, to discuss the book with book club hosts Sarah & Mariah! This book club is free to anyone who wishes to participate, no registration necessary.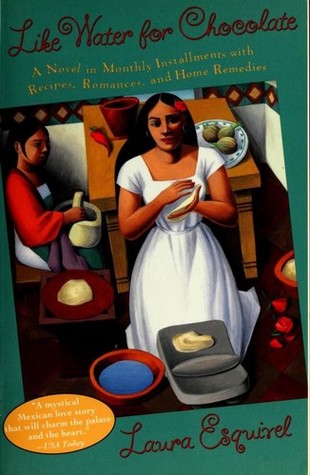 Dates and books for upcoming 2022 Found in Translation
August 19 at 7 PM  Like Water for Chocolate by Laura Esquivel
September 16 at 7 PM  Frankenstein in Baghdad by Ahmed Saadawi
October 21 at 7 PM Tender is the Flesh by Augstina Bazterrica
November 18 at 7 PM  Strange Beasts of China by Yan Ge
December 16 at 7 PM  A Winter's Promise by Christelle Dabos