Totally Graphic YA Book Club
High Schoolers! Are you short on time (or attention) but want all the coziness of a book club in a bonafide bookshop? Join us each month for Capri Suns and snacks and discussions of the graphic novel we'll read each month.  
This book club is for students in grades 9-12, and will meet the second Friday of each month.
Registration is required to participate in the Totally Graphic book club.
Kent State: Four Dead in Ohio by Derf Backderf
WHEN: Friday, June 10, 5 PM 
WHERE: Dog-Eared Books 
On May 4, 1970, the Ohio National Guard gunned down unarmed college students protesting the Vietnam War at Kent State University. In a deadly barrage of 67 shots, 4 students were killed and 9 shot and wounded. It was the day America turned guns on its own children—a shocking event burned into our national memory.
A few days prior, 10-year-old Derf Backderf saw those same Guardsmen patrolling his nearby hometown, sent in by the governor to crush a trucker strike. Using the journalism skills he employed on My Friend Dahmer and Trashed, Backderf has conducted extensive interviews and research to explore the lives of these four young people and the events of those four days in May, when the country seemed on the brink of tearing apart. Kent State: Four Dead in Ohio, is a moving and troubling story about the bitter price of dissent—as relevant today as it was in 1970.
Pick up a free copy (once registered) that was paid for and sponsored by a community member, or grab it from the library, and join us at Dog·Eared Books at 5 PM on Friday, May 13, to discuss!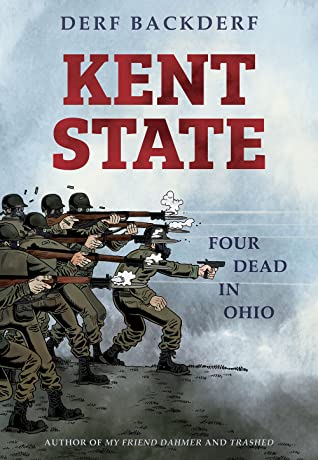 Dates and books for upcoming Totally Graphic Book Club gatherings:
June 10 at 5 PM  Kent State: Four Dead in Ohio by Derf Backderf sponsored by community member
July 15 at 7 PM  Messy Roots: A Graphic Memoir of a Wuhanese American by Laura Gao sponsored by community member
August 12 at 7 PM  Welcome to St. Hell: My Trans Teen Misadventure by Lewis Hancox sponsored by community member
September 9 at 7 PM  Wash Day Diaries by Jamila Rowser & Robin A. Smith sponsored by community member
October 14 at 7 PM  How to Be Ace: A Memoir of Growing up Asexual by Rebecca Burgess sponsored by community member
November 17 at 7 PM  The Golden Hour by Niki Smith sponsored by community member
December 17 at 7 PM  Cheer Up: Love and Pompoms by Crystal Frasier sponsored by community member