Good Books Young Troublemakers Book Club for Middle School Students
When: Saturday, December 16, at 4 PM
Where: Dog-Eared Books loft
"Never, ever be afraid to make some noise and get in good trouble, necessary trouble." – Congressman & civil rights activist John Lewis
Good Books Young Troublemakers is a book club where middle school-aged kids read great books and practice speaking up. In GBYT, we create a space for participants to reflect on identity, privilege, and power, and offer tools and practice opportunities to help prepare them to use their voices to respond to moments of injustice, both small and large. In short, we help them learn how to engage in "good trouble"!
Not only are books fun, but some stories can also help us learn how to think about injustice, use our voices–and be good troublemakers! Join Tanvi and Lou to chat about The Unlovable Alina Butt by Ambreen Butt-Hussain.
Registration is required for the Good Books Young Troublemakers Book Club.
Fitting in at a new school is hard enough, but when you're an awkward, big-nosed, nerdy Pakistani girl with a funny last name, it can seem impossible.
Eleven-year-old Alina Butt has changed schools four times already since her family moved to England from Pakistan. Even after all that practice, she doesn't seem to be getting any better at being the new kid. Mocked for her last name and her "weird" lunches, Alina has had enough! Taking a leap of faith to try and stand out for the "right" reasons, Alina auditions for the school play. Her hopes of landing the lead role in Cinderella are dashed when her new friend gets the part of Cinderella instead…and her bully is cast as Prince Charming!
Alina must rely on her stubborn will and wacky sense of humor to survive the endlessly embarrassing and ridiculous situations she finds herself in and discover her own unique way to shine!
Ready to get started?
The December book club pick was sponsored by a community member. But you are welcome to pick up a free copy, purchase a copy to read, or grab it from the library, and join us at Dog-Eared Books, Saturday, December 16, at 4 PM, for the book discussion.
Registration is required each month to participate in the book club. Seats are limited to 10 participants; register today to save a seat.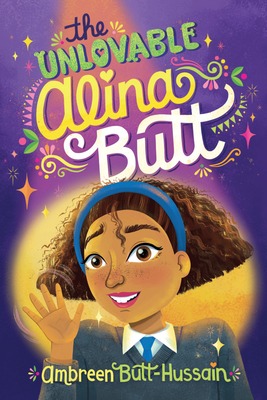 Dates and books for upcoming Good Trouble Book Club 2023 gatherings:
December 16 at 4 PM
The Unlovable Alina Butt by Ambreen Butt-Hussain sponsored by a community member
January 27 at 4 PM
Grounded by Aisha Saeed, S K Ali, Jamilah Thompkins-Bigelow, and Huda Al-Marashi sponsored by the Ames Literary Society & Amanda R.
February 17 at 4 PM
Will on the Inside by Andrew Eliopulos sponsored by Lindsay S. & Mark H.
March 23 at 4 PM
Hope in the Valley by Mitali Perkins sponsored by Laura B. & Jessica W.
April 27 at 4 PM
Honestly Elliott by Gillian McDunn sponsored by Sara N. & Jess H.
May 25 at 4 PM
Barely Floating by Lilliam Rivera sponsored by Nancy A. & Des 515 Book Club
June 22 at 4 PM
Code Red by Joy McCullough sponsored by Jamie O. & Amy P.
Previous Book Club Selections