Thrills & Chills Book Club
When: January 17, 2023 | 6 PM
Thrills & Chills is the book club you'll want to join if you love a bit of spookiness while reading. It's led by Jordan, a fan of all types of mystery and thriller novels. Explore the mystery/thriller genre with each read in this chilling but super chill book club.
This month we are reading The Seven and a Half Deaths of Evelyn Hardcastleby Stuart Turton The Thrills & Chills book club will meet at 6 PM, on Tuesday, January 17.
Aiden Bishop knows the rules. Evelyn Hardcastle will die every day until he can identify her killer and break the cycle. But every time the day begins again, Aiden wakes up in the body of a different guest at Blackheath Manor. And some of his hosts are more helpful than others. With a locked-room mystery that Agatha Christie would envy, Stuart Turton unfurls a breakneck novel of intrigue and suspense.
International bestselling author Stuart Turton delivers inventive twists in a thriller of such unexpected creativity it will leave readers guessing until the very last page.
Purchase a copy to read, or grab it from the library, and join us for discussion at Dog-Eared Books at 6 PM, on Tuesday, January 17. This book club is free to anyone who wishes to participate, no registration necessary.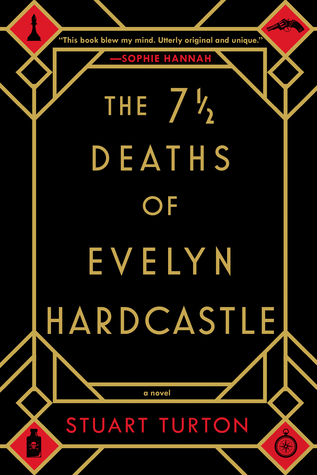 Dates and books of upcoming 2023 Thrills & Chills Book Club gatherings: 
January 17 at 6 PM The Seven and a Half Deaths of Evelyn Hardcastle by Stuart Turton
February 21 at 6 PM Daisy Darker by Alice Feeney
March 21 at 6 PM The Villa by Rachel Hawkins
April 18 at 6 PM Arsenic and Adobo by Mia P. Manansala
May 16 at 6 PM Killers of a Certain Age by Deanna Raybourn
June 20 at 6 PM The Stranger Diaries by Elly Griffiths