It's Russian Lit! Book Club
When: Sunday, June 25, 2 PM
"Russian" to a good book! 😉 Winston Churchill once described Russia as "a riddle, wrapped in a mystery, inside an enigma." Now is a great time to engage with Russian literature; these works can help us understand the long suffering of the Russian people under their oppressive governments, as well as their culture. Many of the Russian writers the club will read were directly opposed to and persecuted by their government, and they can give us context for our current world as well as a damn good story. If you have even the slightest interest in understanding the complexity or Russia's culture, this book club is for you.
We will be reading both seminal Golden Age classics (Tolstoy, Dostoevsky, Turgenev) and lesser known works, both old and modern. This club will only be reading fictional works – while Russian history can be equally as compelling, it will not be the focus.
This month we are reading A School for Fools by Sasha Sokolov. It's Russian Lit book club will meet at 2 PM, on Sunday, June 25.
By turns lyrical and philosophical, witty and baffling, A School for Fools confounds all expectations of the novel. Here we find not one reliable narrator but two "unreliable" the young man who is a student at the "school for fools" and his double. What begins as a reverie (with frequent interruptions) comes to seem a sort of fairy-tale quest not for gold or marriage but for self-knowledge. The currents of consciousness running through the novel are passionate and profound. Memories of childhood summers at the dacha are contemporaneous with the present, the dead are alive, and the beloved is present in the wind. Here is a tale either of madness or of the life of the imagination in conversation with reason, straining at the limits of language; in the words of Vladimir Nabokov, "an enchanting, tragic, and touching book."
Purchase a copy to read, or grab it from the library, and join us June 25, for an engaging discussion about A School for Fools by Sasha Sokolov. This book club is free to anyone who wishes to participate. No registration necessary.
Content Warnings for It's Russian Lit! Book Club 2023
Content Warnings for A School for Fools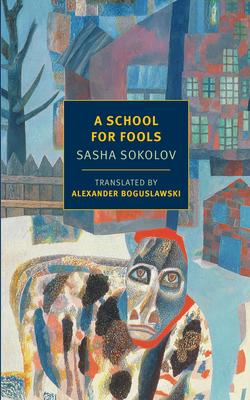 Dates and books of upcoming 2023 It's Russian Lit! Book Club:
Previous Book Club Selections