Good Trouble Book Club for
Middle School Students
WHEN: Saturday, June 4, 4 – 4:45 PM
WHERE: Dog-Eared Books loft
"Never, ever be afraid to make some noise and get in good trouble, necessary trouble." – Congressman & civil rights activist John Lewis
Not only are books fun, but some stories can also help us learn how to think about injustice, use our voices–and be good troublemakers! Join Tanvi and Trinity to chat about Maybe He Just Likes You by Barbara Dee.  
Registration is required for the Good Trouble Book Club.
For seventh-grader Mila, it starts with some boys giving her an unwanted hug on the school blacktop. A few days later, at recess, one of the boys (and fellow trumpet player) Callum tells Mila it's his birthday, and asks her for a "birthday hug." He's just being friendly, isn't he? And how can she say no? But Callum's hug lasts a few seconds too long, and feels…weird. According to her friend, Zara, Mila is being immature and overreacting. Doesn't she know what flirting looks like?
But the boys don't leave Mila alone. On the bus. In the halls. During band practice—the one place Mila could always escape.
It doesn't feel like flirting—so what is it? Thanks to a chance meeting, Mila begins to find solace in a new place: karate class. Slowly, with the help of a fellow classmate, Mila learns how to stand her ground and how to respect others—and herself.
The May book club pick was sponsored by a community member. But you are welcome to pick up a free copy, purchase a copy to read, or grab it from the library, and join us at Dog-Eared Books, Saturday, June 4, at 4 PM, for the book discussion. Please don't let financial hardship be a barrier! Let us know if you need help purchasing your copy. Snacks will be provided.
Registration is required to participate in the book club. Seats are limited to 8
participants; register today to save a seat.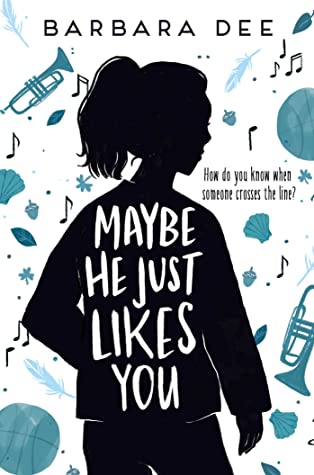 Dates and books for upcoming Good Trouble Book Club 2022 gatherings:
June 4 at 4 PM  Maybe He Just Likes You by Barbara Dee sponsored by community member
June 25 at 4 PM  Amari and the Night Brothers by B.B. Alston sponsored by community member
July 23 at 4 PM Troublemaker by John Cho sponsored by community member
August 27 at 4 PM New from Here by Kelly Yang sponsored by community member
September 24 at 4 PM Small Town Pride by Phil Stamper sponsored by community member
October 22 at 4 PM Yusuf Azeem Is Not a Hero by Saadia Faruqi sponsored by community member
November 19 at 4 PM A Duet For Home by Yan Glaser sponsored by community member
December 17 at 4 PM  Swim Team by Johnnie Christmas sponsored by community member