Good Trouble Book Club for
Middle School Students
WHEN: Saturday, October 8, 4 – 4:45 PM
WHERE: Dog-Eared Books loft
"Never, ever be afraid to make some noise and get in good trouble, necessary trouble." – Congressman & civil rights activist John Lewis
Not only are books fun, but some stories can also help us learn how to think about injustice, use our voices–and be good troublemakers! Join Tanvi and Trinity to chat about Small Town Pride by Phil Stamper.  
Registration is required for the Good Trouble Book Club.
Jake is just starting to enjoy life as his school's first openly gay kid. While his family and friends are accepting and supportive, the same can't be said about everyone in their small town of Barton Springs, Ohio.
When Jake's dad hangs a comically large pride flag in their front yard in an overblown show of love, the mayor begins to receive complaints. A few people are even concerned the flag will lead to something truly outlandish: a pride parade.
Except Jake doesn't think that's a ridiculous idea. Why can't they hold a pride festival in Barton Springs? The problem is, Jake knows he'll have to get approval from the town council, and the mayor won't be on his side. And as Jake and his friends try to find a way to bring Pride to Barton Springs, it seems suspicious that the mayor's son, Brett, suddenly wants to spend time with Jake.
But someone that cute couldn't possibly be in league with his mayoral mother, could he?
The September book club pick was sponsored by a community member. But you are welcome to pick up a free copy, purchase a copy to read, or grab it from the library, and join us at Dog-Eared Books, Saturday, October 8, at 4 PM, for the book discussion. Please don't let financial hardship be a barrier! Let us know if you need help purchasing your copy. Snacks will be provided.
Registration is required to participate in the book club. Seats are limited to 8
participants; register today to save a seat.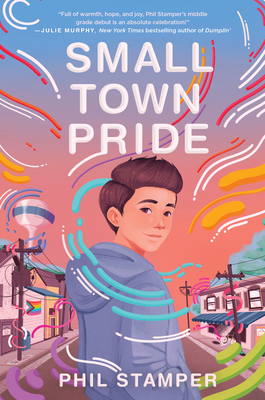 Dates and books for upcoming Good Trouble Book Club 2022 gatherings:
October 8 at 4 PM Small Town Pride by Phil Stamper sponsored by community member
October 22 at 4 PM Yusuf Azeem Is Not a Hero by Saadia Faruqi sponsored by community member
November 19 at 4 PM A Duet For Home by Yan Glaser sponsored by community member
December 17 at 4 PM  Swim Team by Johnnie Christmas sponsored by community member