Between the Covers Book Club
Dog-Eared's "Between the Covers" Book Club is a celebration of all things rom-com led by one of the genre's greatest fans, DeAnn. With a new pick each month, swooning has never been so much fun.
Booked on a Feeling by Jayci Lee
WHEN: Saturday, August 20, 8 PM 
WHERE: Dog-Eared Books 
This month we are reading Booked on a Feeling by Jayci Lee! The Between the Covers book club will meet at 8 PM on Saturday, August 20. 
Lizzy "Overachiever" Chung, Esq. has her life mapped out neatly:
* Become a lawyer. Check.
* Join a prestigious law firm. Check.
* Make partner. In progress.
If all goes to plan, she will check off that last box in a couple years, make her parents proud, and live a successful, fulfilled life in L.A. What was not in her plans was passing out from a panic attack during a pivotal moment in her career. A few deep breaths and a four hour drive later, Lizzy is in Weldon for three weeks to shed the burnout and figure out what went wrong. And what better place to recharge than the small California town where she spent her childhood summers with her best friend, Jack Park.
Jack Park didn't expect to see Lizzy back in Weldon, but now he's got three weeks to spend with the girl of his dreams. Except she doesn't know of his decades-long crush on her–and he intends to keep it that way. She's a high-powered attorney who lives in L.A. and he's a bookkeeper at his family's brewery who never left his hometown. He can't risk their friendship on a long shot. Can he? When Lizzy decides that the local bookstore needs a little revamp, of course, Jack is going to help her bring it back to life. But the more time they spend together, the harder it becomes to ignore there might be more than just friendship among the dusty shelves and books…
Sometimes the path to the rest of your life has been in front of you all along.
Purchase a copy to read, or grab it from the library, and join us at Dog·Eared Books at 8 PM on Saturday, August 20, to discuss the book with book club host DeAnn! This book club is free to anyone who wishes to participate, no registration necessary.
Dates and books for upcoming 2022 Between the Covers Book Club gatherings:
August 20 at 8 PM  Booked on a Feeling by Jayci Lee
September 17 at 7 PM  Delilah Green Doesn't Care by Ashley Herring Blake
October 22 at 7 PM  The Kiss Curse by Erin Sterling
November 26 at 7 PM  Do You Take This Man by Denise Williams
December 17 at 7 PM  A Very Merry Bromance by Lyssa Kay Adams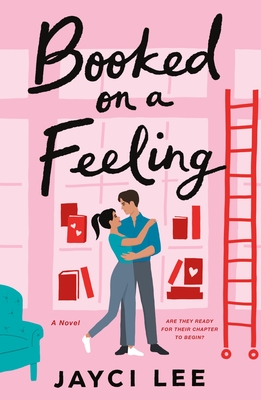 Do You Listen to Podcasts?
This is the Between the Covers Podcast, with hosts DeAnn Malone and Rachel Trainum. In our podcast we'll chat about our favorite rom-com reads, the book pick for the Between the Covers book club at Dog-Eared Books in Ames, IA and the tropes that go with the book we're currently reading. And much more! Between the Covers podcast will be bi-weekly, with one episode covering the current rom-com trope topic and the next discussing the book club read. And on occasion we will have bonus episodes where you can hear us talk about more in the rom-com world.
We hope you listen and read along with us!
Available on Spotify & Apple Podcasts.